Lake of the Woods South Shore
Fishing Report  
 Sportsman's Lodge
Baudette, MN
www.sportsmanslodges.com
800-862-8602

8/26/2013
Mud, Rock, Sand….Read all about it
Summer heat came back! Walleye fishing has been great! Lots of action! Nice quality 14"-18" and 23"+ too. Trolling with crank baits in the mud 32'-35' in northern Big Traverse and shallow rock 11'-15' is working. Drifting and jigging in the evening in the shallow sand near Pine Island 6'-12' has also been successful.
Lake Sturgeons are active!
Lake sturgeons are biting in the river in the deep holes with current. Anglers have spotted several jumping in the evening hours. Quite the show! Keep one (within size limits, refer to DNR regulations for details) season lasts until Sept 30 and catch and release season is Oct 1-April 23. To keep one you just need to purchase a $5 sturgeon tag and have Minnesota fishing license. Click here for more information on licenses and limits.

6-year-old Andrew Burquest from Elk River, MN with 28.5 inch
walleye caught in 34 feet of water using a crawler harness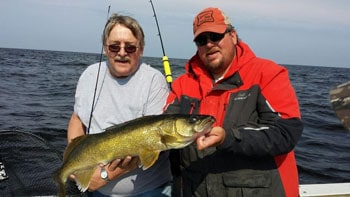 Veteran fisherman Kenny Hopp reeled in a nice 30 inch walleye
on a fire tiger shad rap while fishing with Captain Dave

30.5 inch walleye caught by Joe Waller and
guided by Captain Darryl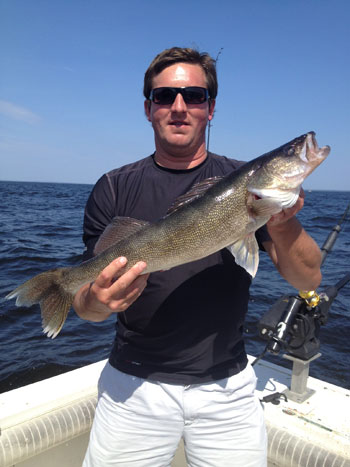 28 inch walleye caught by a member of the
Hagen group with Captain Mike

Labor Day Weekend Special!
Stay 3 and get the 4th night FREE at Sportsman's Lodge Rainy River location! We will also be hosting our 2nd Annual 80's Party on Saturday, Aug 31. Pack your zubaz! For reservations book online or call 800-862-8602.

---
NW Angle/Oak Island Lake of the Woods
Fishing Report  
 Sportsman's Oak Island Lodge
Oak Island, MN
www.oakislandlodge.com
800-772-8411

8/26/2013
Not much change this week, just good fishing!
Hungry walleyes have been found in deep rocky areas in 22'-25'. Dead minnow on a 3/8 oz chartreuse and black jig has worked best. Little Oak Island and areas north around Skeet have been good. The evening bite has been the best.
Pike & Musky
Pike and musky have been found in the deep weed beds especially in the late afternoon using a cowgirl.
Fall is just around the corner.
Book your getaway online or call 800-772-8411! Looking for peace and quiet? Check out our Eagle Ridge location. A small two cabin oasis that you will love is just a short boat ride or walking path away from Sportsman's Oak Island Lodge. Rates starting at just $99 for two nights per person.